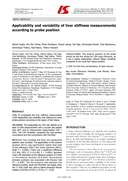 Applicability and variability of liver stiffness measurements according to probe position.
World journal of gastroenterology : WJG
Ingiliz P, Chhay KP, Munteanu M, Lebray P, Ngo Y, Roulot D, Benhamou Y, Thabut D, Ratziu V, Poynard T
2009 World J. Gastroenterol. Volume 15 Issue 27
FibroTest Reliability vs. Elastography HCV HBV HIV co-infected Metabolic Diseases Alcohol Other liver Disease Fibrosis
---
AIM
To investigate the liver stiffness measurement (LSM) applicability and variability with reference to three probe positions according to the region of liver biopsy.
METHODS
The applicability for LSM was defined as at least 10 valid measurements with a success rate greater than 60% and an interquartile range/median LSM < 30%. The LSM variability compared the inter-position concordance and the concordance with FibroTest.
RESULTS
Four hundred and forty two consecutive patients were included. The applicability of the anterior position (81%) was significantly higher than that of the reference (69%) and lower positions (68%), (both P = 0.0001). There was a significant difference (0.5 kPa, 95% CI 0.13-0.89; P < 0.0001) between mean LSM estimated at the reference position (9.3 kPa) vs the anterior position (8.8 kPa). Discordance between positions was associated with thoracic fold (P = 0.008). The discordance rate between the reference position result and FibroTest was higher when the 7.1 kPa cutoff was used to define advanced fibrosis instead of 8.8 kPa (33.6% vs 23.5%, P = 0.03).
CONCLUSION
The anterior position of the probe should be the first choice for LSM using Fibroscan, as it has a higher applicability without higher variability compared to the usual liver biopsy position.
---
Citation Reference: