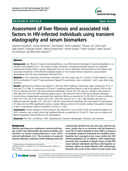 Assessment of liver fibrosis and associated risk factors in HIV-infected individuals using transient elastography and serum biomarkers.
BMC gastroenterology
Vermehren J, Vermehren A, Mueller A, Carlebach A, Lutz T, Gute P, Knecht G, Sarrazin C, Friedrich-Rust M, Forestier N, Poynard T, Zeuzem S, Herrmann E, Hofmann WP
2012 BMC Gastroenterol Volume 12 Issue None
PubMed 22453133 DOI 10.1186/1471-230X-12-27
FibroTest Reliability Independant Team vs. Elastography HCV HIV co-infected Fibrosis
---
BACKGROUND
Liver fibrosis in human immunodeficiency virus (HIV)-infected individuals is mostly attributable to co-infection with hepatitis B or C. The impact of other risk factors, including prolonged exposure to combined antiretroviral therapy (cART) is poorly understood. Our aim was to determine the prevalence of liver fibrosis and associated risk factors in HIV-infected individuals based on non-invasive fibrosis assessment using transient elastography (TE) and serum biomarkers (Fibrotest [FT]).
METHODS
In 202 consecutive HIV-infected individuals (159 men; mean age 47 ± 9 years; 35 with hepatitis-C-virus [HCV] co-infection), TE and FT were performed. Repeat TE examinations were conducted 1 and 2 years after study inclusion.
RESULTS
Significant liver fibrosis was present in 16% and 29% of patients, respectively, when assessed by TE (≥ 7.1 kPa) and FT (> 0.48). A combination of TE and FT predicted significant fibrosis in 8% of all patients (31% in HIV/HCV co-infected and 3% in HIV mono-infected individuals). Chronic ALT, AST and γ-GT elevation was present in 29%, 20% and 51% of all cART-exposed patients and in 19%, 8% and 45.5% of HIV mono-infected individuals. Overall, factors independently associated with significant fibrosis as assessed by TE (OR, 95% CI) were co-infection with HCV (7.29, 1.95-27.34), chronic AST (6.58, 1.30-33.25) and γ-GT (5.17, 1.56-17.08) elevation and time on dideoxynucleoside therapy (1.01, 1.00-1.02). In 68 HIV mono-infected individuals who had repeat TE examinations, TE values did not differ significantly during a median follow-up time of 24 months (median intra-patient changes at last TE examination relative to baseline: -0.2 kPa, p = 0.20).
CONCLUSIONS
Chronic elevation of liver enzymes was observed in up to 45.5% of HIV mono-infected patients on cART. However, only a small subset had significant fibrosis as predicted by TE and FT. There was no evidence for fibrosis progression during follow-up TE examinations.
---
Citation Reference: