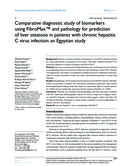 Comparative diagnostic study of biomarkers using FibroMax™ and pathology for prediction of liver steatosis in patients with chronic hepatitis C virus infection: an Egyptian study.
International journal of general medicine
Fouad A, Sabry D, Ahmed R, Kamal M, Allah SA, Marzouk S, Amin M, Abd El Aziz R, El Badri A, Khattab H, Helmy D
2013 Int J Gen Med Volume 6 Issue None
PubMed 23662075 DOI 10.2147/IJGM.S36433
---
BACKGROUND
Steatosis is common in patients with hepatitis C virus (HCV) infection and may be a major determinant of progression of liver injury. This study evaluated FibroMax™ for noninvasive diagnosis of steatosis in patients with chronic HCV.
METHODS
This cross-sectional study included 44 patients naïve to treatment who were referred to our hepatology clinic for assessment of fitness for antiviral therapy. Chronic HCV infection was diagnosed by viral markers. Investigations included assessment of abdominal ultrasonography, liver biopsy, calculation of body mass index, and biomarker parameters in serum using FibroMax.
RESULTS
Histopathology of liver biopsies showed steatosis in 30 of 44 (68%) patients. FibroMax results were positively correlated with viral load by quantitative polymerase chain reaction and histopathological findings. Body mass index was significantly higher in steatotic patients (P = 0.003) and was significantly associated with the results on FibroMax (P = 0.005).
CONCLUSION
FibroMax was correlated with histopathology and body mass index in patients with HCV. Abdominal ultrasonography could not be used as a single tool to diagnose steatosis with HCV. Steatosis is correlated with viral load, which suggests a direct viral effect. We recommend FibroMax assessment in a larger number of patients to assess its applicability in patients with HCV and steatosis.
---
Citation Reference: