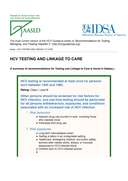 Physicians' practices for diagnosing liver fibrosis in chronic liver diseases: a nationwide, Canadian survey.
Canadian journal of gastroenterology & hepatology
Sebastiani G, Ghali P, Wong P, Klein MB, Deschenes M, Myers RP
2014 Can J Gastroenterol Hepatol Volume 28 Issue 1
FibroTest Reliability Independant Team vs. Biopsy vs. Elastography HCV HBV HIV co-infected Metabolic Diseases Alcohol Other liver Disease Fibrosis
---
OBJECTIVE
To determine practices among physicians in Canada for the assessment of liver fibrosis in patients with chronic liver diseases.
METHODS
Hepatologists, gastroenterologists, infectious diseases specialists, members of the Canadian Gastroenterology Association and⁄or the Canadian HIV Trials Network who manage patients with liver diseases were invited to participate in a web-based, national survey.
RESULTS
Of the 237 physicians invited, 104 (43.9%) completed the survey. Routine assessment of liver fibrosis was requested by the surveyed physicians mostly for chronic hepatitis C (76.5%), followed by autoimmune⁄cholestatic liver disease (59.6%) and chronic hepatitis B (52.9%). Liver biopsy was the main diagnostic tool for 46.2% of the respondents, Fibroscan (Echosens, France) for 39.4% and Fibrotest (LabCorp, USA) for 7.7%. Etiology-specific differences were observed: noninvasive methods were mostly used for hepatitis C (63% versus 37% liver biopsy) and hepatitis B (62.9% versus 37.1% liver biopsy). For 42.7% of respondents, the use of noninvasive methods reduced the need for liver biopsy by >50%. Physicians' characteristics associated with higher use of noninvasive methods were older age and being based at a university hospital or in private practice versus community hospital. Physicians' main concerns regarding noninvasive fibrosis assessment methods were access⁄availability (42.3%), lack of guidelines for clinical use (26.9%) and cost⁄lack of reimbursement (14.4%).
CONCLUSIONS
Physicians who manage patients with chronic liver diseases in Canada require routine assessment of liver fibrosis stage. Although biopsy remains the primary diagnostic tool for almost one-half of respondents, noninvasive methods, particularly Fibroscan, have significantly reduced the need for liver biopsy in Canada. Limitations in access to and availability of the noninvasive methods represent a significant barrier. Finally, there is a need for clinical guidelines and a better reimbursement policy to implement noninvasive tools to assess liver fibrosis.
---
Citation Reference: