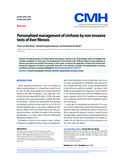 Personalized management of cirrhosis by non-invasive tests of liver fibrosis.
Clinical and molecular hepatology
Wong GL, Espinosa WZ, Wong VW
2015 Clin Mol Hepatol Volume 21 Issue 3
PubMed 26523265 DOI 10.3350/cmh.2015.21.3.200
Review FibroTest Independant Team vs. Elastography vs. Biomarkers HCV HBV Metabolic Diseases Alcohol Fibrosis Cirrhosis
---
Owing to the high prevalence of various chronic liver diseases, cirrhosis is one of the leading causes of morbidity and mortality worldwide. In recent years, the development of non-invasive tests of fibrosis allows accurate diagnosis of cirrhosis and reduces the need for liver biopsy. In this review, we discuss the application of these non-invasive tests beyond the diagnosis of cirrhosis. In particular, their role in the selection of patients for hepatocellular carcinoma surveillance and varices screening is highlighted.
---
Citation Reference: