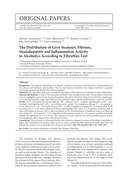 The Distribution of Liver Steatosis, Fibrosis, Steatohepatitis and Inflammation Activity in Alcoholics According to FibroMax Test.
Advances in clinical and experimental medicine : official organ Wroclaw Medical University
Gudowska M, Wójtowicz E, Cylwik B, Gruszewska E, Chrostek L
2015 Adv Clin Exp Med Volume 24 Issue 5
PubMed 26768633 DOI 10.17219/acem/28485
SteatoTest NashTest AshTest Reliability Independant Team Alcohol Fibrosis Steatosis Activity/Inflammation
---
BACKGROUND
The diagnosis of alcoholic liver diseases is based on the history of alcohol abuse, clinical evidence of liver disease and laboratory abnormalities. The new non-invasive biomarkers have higher sensitivity to quantify and predict steatosis and fibrosis than ultrasonography.
OBJECTIVES
The aim of this study was to evaluate the prevalence of liver diseases in alcoholics by means of FibroMax.
MATERIAL AND METHODS
A total of 142 consecutive alcoholics were enrolled in the study. The prevalence of liver diseases was assayed by means of non-invasive biomarkers: fibrosis by FibroTest, steatosis by SteatoTest, steatohapatitis by AshTest (alcoholic origin) and NashTest (non-alcoholic origin) and necroinflammatory activity by ActiTest.
RESULTS
38.7% of alcoholics do not have fibrosis, 38%--steatosis, 94.1%--alcoholic steatohepatitis, 56.6%--non-alcoholic steatohepatitis and 33.6%--necroinflammatory activity. The insignificant fibrosis (F<2) is present in 37.2%, advanced (F≥2)--15.3% and cirrhosis (F4)--in 8.8%. Insignificant steatosis (S<2) is observed in 31.3% and advanced (S≥2) in 30.5%. Minimal alcoholic steatohepatitis (H1) exists in 5.2% patients, moderate (H2) in none of the patient and severe (H3) in only one patient (0.7%). The distribution of NashTest scores is as following: N0--56.6%, N1--38.2% and N2--5.1%. Insignificant inflammatory activity (A<2) is present in 40.8% of alcoholic patients but significant (A≥2) in 25.5%. The frequency of severe steatosis (F3) and necroinflammatory activity (A3) in patients with cirrhosis (F4) is 50% for each of them.
CONCLUSIONS
The prevalence of advanced fibrosis and cirrhosis evaluated by means of FibroMax in alcoholics is higher than in alcoholic liver disease (ALD) and lower than in mixed, alcoholic and non-alcoholic ones. This may indicate the presence of non-alcoholic liver disease in alcoholics.
---
Citation Reference: