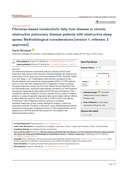 Fibromax-based nonalcoholic fatty liver disease in chronic obstructive pulmonary disease patients with obstructive sleep apnea: Methodological considerations.
F1000Research
Monneret D
2017 F1000Res Volume 6 Issue None
PubMed 29225775 DOI 10.12688/f1000research.12581.1
FibroTest SteatoTest NashTest Reliability Independant Team Metabolic Diseases Fibrosis Steatosis
---
The relationship between nonalcoholic fatty liver disease (NAFLD) and obstructive sleep apnea (OSA) has been well demonstrated, but remains to be evidenced in chronic obstructive pulmonary disease (COPD). Recently, Viglino et al. (Eur Respir J, 2017) attempted to determine the prevalence of liver fibrosis, steatosis and nonalcoholic steatohepatitis (NASH) in COPD patients, some of whom had OSA, basing the NAFLD diagnostic on three circulating biomarker-based liver scores: the FibroTest, SteatoTest and NashTest, from the Fibromax® panel. Among the main findings, the absence of OSA treatment emerged as independently associated with liver fibrosis and steatosis, when compared to effective treatment. However, besides the low number of treated patients, no polysomnographic respiratory data was provided, making it difficult to differentiate the impact of OSA from that of COPD in NAFLD prevalence. Furthermore, NAFLD diagnosis relied exclusively on circulating biomarker-based liver scores, without histological, imagery or other liver exploratory methods. Therefore, in this article, some methodological points are reminded and discussed, including the choice of OSA measurements, and the significance of ActiTest and AshTest scores from Fibromax® in this pathophysiological context.
---
Citation Reference: