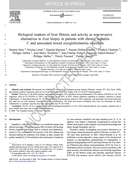 Biological markers of liver fibrosis and activity as non-invasive alternatives to liver biopsy in patients with chronic hepatitis C and associated mixed cryoglobulinemia vasculitis.
Clinical biochemistry
Sène D, Limal N, Messous D, Ghillani-Dalbin P, Charlotte F, Thiollière JM, Piette JC, Imbert-Bismut F, Halfon P, Poynard T, Cacoub P
2006 Clin. Biochem. Volume 39 Issue 7
PubMed 16765932 DOI 10.1016/j.clinbiochem.2006.04.019
FibroTest ActiTest Reliability vs. Biomarkers HCV Fibrosis Activity/Inflammation
---
OBJECTIVE AND METHODS
We assessed the reliability of non-invasive biological scoring indexes (Fibrotest-Actitest [FT-AT], Forns, APRI, age-platelet, platelet, hyaluronic acid) as non-invasive alternatives to liver biopsy (LB) in 138 HCV-infected patients.
RESULTS
Thirty-six of 138 (26%) patients had systemic vasculitis, 27% significant serum inflammation, 47% fibrosis (F2F3F4) on LB. The diagnostic value of FT (F2F3F4 vs. F0F1) was assessed by an AUC of 0.83, without difference regarding to systemic vasculitis or serum inflammation. A discordance between FT-AT and the Metavir scoring indexes, present in 29% of patients, was associated with serum hemolysis and male but not with systemic vasculitis or serum inflammation. The other non-invasive biological tests were not influenced by serum inflammation or systemic vasculitis but were less reliable than FT (P
CONCLUSION
The FT-AT is a reliable non-invasive biochemical alternative to LB in HCV-infected patients with systemic vasculitis and is more reliable than other non-invasive biological indexes.
---
Citation Reference: